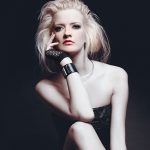 This week I am going to give you tips on how to get  the  best pose for pictures of yourself!
First, practise in the mirror!
Chances are, even the most confident, self-possessed woman has occasionally fallen victim to an unflattering photo. Even if we're completely satisfied with the way we look in  the mirror  a truly bad picture can damage a power so strong that we often find ourselves miserable for days, even if we think we know how to pose for pictures.
POSING is EVERYTHING. We stand in the correct position, move our heads slightly, breathe in , twist our shoulders, so many little tips contribute to making a good shot to a GREAT Shot!
TIP 1, Strange as it might seem but 
Use your tongue. !!
This is one of best tricks out there—and the weirdest. It might feel strange, but by pressing your tongue on the roof of your mouth while smiling is an effective way to help avoid the dreaded double chin, as it elongates your neck and your jawline giving you a much nicer shape!
Tune in tomorrow for Tip Number 2 !!